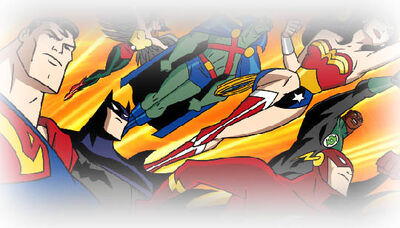 Welcome to League-O-Pedia
Edit
Several years ago, a website titled The Justice League Watchtower appeared on the World Wide Web: a thorough database of all things Justice League, or at least the animated series. Fans of the show came from all around to visit the Watchtower, one of the small few existing sites that could give them the kind of information they sought.
Today, the Watchtower is a memory, as is the animated series. The creative minds behind the former website have long since disbanded. The series forgotten, its collective information has been stored in the ghettos of former webmaster SonofJorel's multiple external harddrives. That is, until now.
As the former and now current webmaster, I welcome all fans of the now "old" Justice League animated series to League-O-Pedia, the World's Finest Justice League Database. Here you will find everything there is to know about each character and episode, more thoroughly than anywhere else on the net.
Now that the show is over with, there isn't much to be updated for this website. But everything you need to know is here. Make this your one stop any time you wonder, "Hey, who was in that episode again?" or "Hey, am I a huge geek and still love this show even though it's been off the air for almost four years and I'm in college now and I have a girlfriend and I don't know why I even made this website when I could have been doing many more productive things?"
...well, let's just say I needed to make some room on those harddrives.
Enjoy.
Sincerely,
SonofJorel
JLW webmaster 2004-2006
Superbuddies artist 2003-2006
Bruce Timm animation fan 1992-present
The information on this site is primarily fan-composed and may not necessarily be completely canonical.
Latest activity
Edit
Community content is available under
CC-BY-SA
unless otherwise noted.